CTP type:Pulse Count Type Tension controller
tenson controller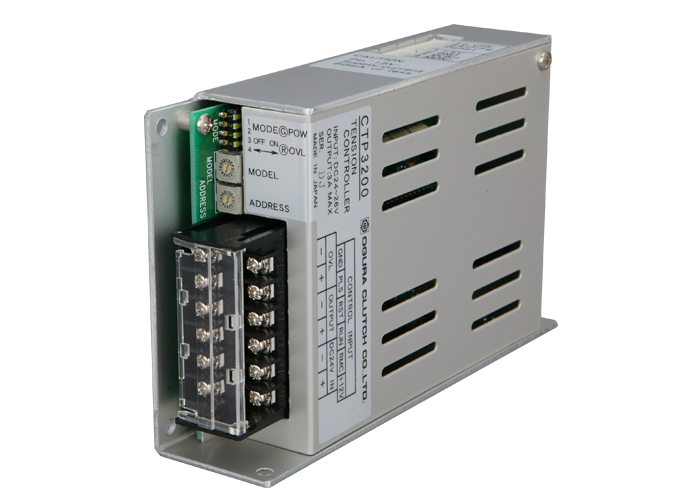 Features
・Simple inputs of pulse (1 pulse / 1 revolution) enable automatic tension control.
・Temperature variation can be ignored due to constant current control.
・Easy type selection based on application loads.
・Dedicated setting units enable multiple tension settings with less cabling.
・Optional output monitor.
・Constant tension control for let-off/take-up via brake /clutch.
| | |
| --- | --- |
| CTP1200 | 1.5A Output type |
| CTP3200 | 3.0A Output type |
Data Library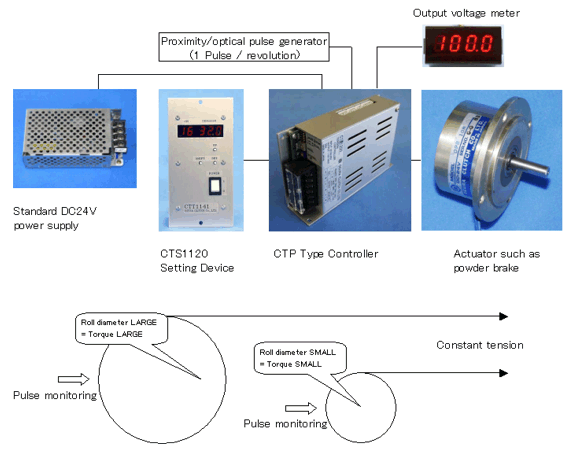 ・By monitoring the rotational pulse, the roll diameter can be calculated.
・The braking torque is automatically adjusted according to the calculated diameter, thus constant tension is achieved.
・The starting diameter and sheet thickness (For fibers, the equivalent value) is input into the setting device.
・Multiple CTP units can be set individually or simultaneously via the CTS1120 setting device.
・Single CTP unit can be set via the CTS1220 setting device.